Orcas Online utilizes remote technology to assist you with situations like setting up printers, setting up email, scanning for Malware and fixing many problems you need help with.
It is great not to have to bring your computer in and/or not to have to wait for a technician to come to the home. Remote Assistance often can speed up finding a resolution to the issue.
 If you are talking with an Orcas Online Technician (Rick, Keith, Nathan or Mindy) they may direct you to this site and give you a code to enter. Just click in the box on the right, erase the xxx-xxx-xxx's, enter the number the Technician gives you and click submit. 
That should get the Remote Assistance connection started.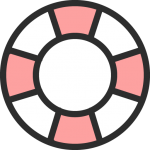 The process involves downloading a small application that you will need to install. Once installed you will need to approve the Technician can have permission to view control you computer.Click below to see a video of downloading and installing the Remote PC software.
You should seriously consider not giving your passwords out.  If you do give a password, consider changing it at your next convenience.
Please be aware that the Technician will have view access to your screen and any documents that are open. At Orcas Online we hold our staff to high standards of privacy. If at any point you feel unsafe or your privacy threatened please immediately close the session and contact the Orcas Online owners with your concerns.